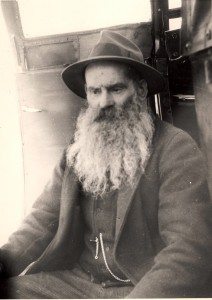 They said he was in hiding, a man on the run. Some said he was Dan Kelly, escaped from fiery Irish martyrdom at the Glenrowan Inn. Even a co-worker thought he was a mainland blow-in. He wasn't. He was just Dave Courtney, Middlesex Plains stockman whose formidable facial hair foxed some people into thinking he had something to hide. Now, however, digitisation of state records makes Dave's past an open book.
Dave Courtney is likely to have been born in Launceston as the fifth child of Buckinghamshire-born ex-convict Henry Courtney and Limerick-born free immigrant Johanna Mack on 5 September 1873. His childhood was probably miserable. Young Courtney received some formal education, since by his mid-teens he could read and write. By that time, however, his father was dead and he was embarking on a series of brushes with the law. Poverty was probably the cause of Courtney being apprehended for petty theft in Launceston as a twelve-year-old and again at fifteen. On neither occasion was a conviction recorded, but the latter event prompted his incarceration at the Cascades Training School, a reformatory established in the old Cascades Female Factory near Hobart, for four years. A brief escape from this institution five months later was short lived. He was then 16 years old, standing 5 feet and 3 inches tall. In 1891 he was working for a blacksmith in Margaret Street, Launceston. Any training he may have received at the Cascades or from the blacksmith was not evident in 1903, when David Courtney, labourer, of Bothwell, supposedly 32 years old, and now three inches taller, was sentenced to one month in gaol for larceny. It was his first actual conviction. As if in a throwback to the convict days, the police record is so detailed as to reveal that he bore several tattoos, two tree branches tattooed inside his right forearm, the initials 'TC' and other marks inside his left forearm, and a bracelet tattooed on his left wrist. A man of mystery—and yet, now, through the pleasures and perils of digitisation, a man of intimate details.
At some point Courtney got a job working with horses. In 1908 he was a horse trainer in Hobart, in 1913 a stud groom. Yet between these appointments he got into trouble again, spending another month in gaol under the Vagrancy Act after supposedly stolen brass couplings and brass bath plugs were found in his possession.
'TC' could have been Courtney's brother Thomas. In January 1918, when 45-year-old David Courtney, of 341 Elizabeth Street, Hobart, disappeared after announcing he was travelling to the Huon district, it was Thomas who reported the matter to the police. However, Thomas Courtney's description of his brother's tattoos made it 'TH' and 'AH' on his left forearm!
(Let's check the mystery man's home on Google Earth—have the street numbers changed? If not, today it's an old house converted into a sweet shop, smack bang in the middle of the North Hobart shopping precinct, only a few doors from the famous Renown Café.)
Two months later, Dave Courtney was located in Deloraine—and soon after that he was Frank Brown's permanent replacement at Middlesex. Another former Middlesex stockman for Fields, Ben Brown, recalled the 'mystery man' who was a newcomer to Fields' employ: 'He had no relations in Tasmania, as far as I know. They reckoned he come off the boat in the first place. That's how he came here, I reckon. He could have done'. If Dave was on the run, his brother blew his cover.
Remote stockmen were paid a meagre wage of perhaps £30 or £40 per year. Yet Courtney settled in at Middlesex Station, minding the stock, maintaining fences, patch-burning the plains and snaring marsupials for a crust. His nearest neighbour was Gustav Weindorfer of Waldheim Chalet, Cradle Valley, a naturalised Australian then in retreat from the anti-German hatred of World War I (1914–18). Hunters like Graham Riley also made Courtney's acquaintance. 'Eskimos and polar bears!', Riley recalled him exclaiming one winter, but the frost and snow did not beat him. Courtney built a picket fence around his vegetable garden to flummox possums and ravens, and so successful was he that one year he exhibited his carrots and turnips in downtown Sheffield. Big money was made in the fur trade during the 1920s. When, in 1926, £200-worth of Courtney's skins, saddles and other possessions were destroyed in a hut fire, he posted a £100 reward for conviction of the arsonist. Yet, contrarily, at another time Dave sold the snaring rights to Middlesex for a bottle of rum. He liked 'a little drop of thick stuff'.
Courtney could also stop a wild bull. Hunter Harold Cook applied his technique one day on Sunshine Plain near the Vale of Belvoir:
"A big red fella [bull] came out and started pawing the ground and twisting his tail round, and I had Ian and Dale Smith from Erriba with me, and they said, 'Let's run'. And I said, 'No, stand still', and I set me two dogs down. We stood there and watched him for a few minutes, and he turned around and walked off. They said, 'How did you now that?' 'Well', I said, 'Dave Courtney told me that'."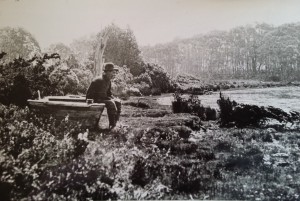 Photos survive which appear to show Courtney rescuing early Cradle Mountain visitors like Fred Smithies and HJ King, driving a bullock team which hauled their vehicles out of the Middlesex mud. Smithies snapped him in the days of his moustaches, before he grew that brush possum-like beard. It was said that his moustaches could have been tied behind his back, making his murder by suffocation possible.
Courtney left Middlesex for a time in 1931, when he was replaced by Ted Farrell. He took a job in the far north-west. In 1935 he claimed £90 worker's compensation from Rickman F Furmage of Deloraine after an injury sustained while slashing gorse at Woolnorth resulted in the amputation of a forefinger. Now out of work, Courtney lost the case. By 1938, now 65 years old, he was back at Middlesex. As of old, he would meet visitors at the station gate, where a billy full of tea would be brewing. John Riley recalled Courtney and four others bringing in 158 head of cattle from Middlesex back to Deloraine, spending the first night at Erriba, the next probably at Sheffield, in 1938 or 1939.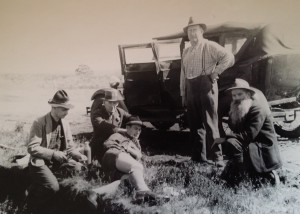 Middlesex was sold after JT Field's death in 1940, and for a time Courtney was a stockrider at the White Rock, Mersey River, near Railton. Dave Courtney, 'late of Middlesex', died at the Devon Hospital, Latrobe, in 1945. His age was given as 84, but he appears to have been 71 years old. If ever the truly evocative story of the Field family graziers goes to press, 'Jack the Shepherd' Francis, his wives Maria, Mary Ann, and son George; the various Browns (Jacky, Linda, Frank, Louisa and Ben); and Dave Courtney will all feature in the tale of Middlesex, their home on the range.